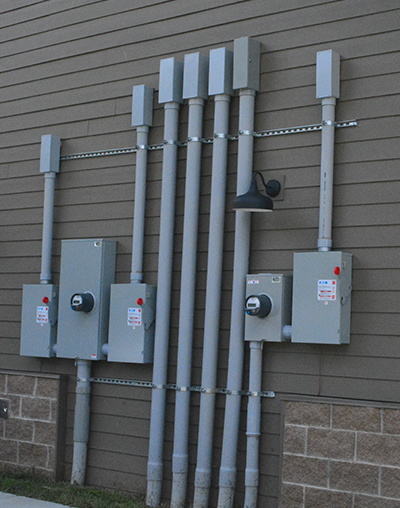 Electrical Services
At Pro 1 Electric Inc, our priority is providing our clients with safe, affordable, and effective electrical services. Our company was founded in 2004 and offers complete commercial, industrial, and residential electrical services. We serve clients across the Parkersburg-Marietta-Vienna metropolitan area and within 50 miles of Wood County, Virginia.
Our company is locally owned and employs talented local tradespeople, estimators, and project managers. Each member of our team receives the training to guarantee a higher quality of work. Our team is FirstEnergy approved and fully licensed. You can be confident your needs will be handled safely and with the utmost professionalism.
Solutions You Need, Results You Deserve
Our roots are in commercial and industrial electrical services, and we have expanded our services to include residential work. We have the skills to tackle projects of any size.
Residential
Your home is your most valuable asset. We partner with homeowners to make sure each job is completed to your satisfaction. Safety is our number one priority on every job site. We will treat you and your home with care and respect.
Commercial
We specialize in designing, testing, and installing electrical systems for a range of commercial clients including hospitals, schools, and others. Our work is backed by our commitment to customer service and affordable pricing.
Industrial
With over 15 years of serving communities in West Virginia and Ohio, you can count on Pro 1 Electric for all your industrial electrical needs. We focus on reliability, professionalism, and safety for both your personnel and machinery.
Electrical Service Upgrades
As your business or operation grows, chances are you will need additional outlets and power capacity. We have the know-how to maximize the electrical functionality of your workspace and install the high-performance equipment you need.
Data Cabling
Communication is critical to the success and productivity of your facility or business. We install high-performance cabling solutions to create a reliable workflow for you and your employees. We can help you implement high-performance voice, data, fiber optic cabling to connect all areas of your business.
Service Calls
If you are experiencing an electrical problem in your home or facility, you can count on our knowledgeable electricians to provide you with a fast, reliable solution. It is our goal to get things back up and running as efficiently as possible.
Grounding & Lightning Protection
Implementing proper grounding and lightning protection is critical to protecting your home, business assets, and personnel from unexpected power surges. Our staff will work with you to ensure your facility or residence or protected. We use advanced testing services and products to ensure the reliability of your electrical system.
Generator Backup Systems
Generators are beneficial to residential, commercial, and industrial applications. A power failure can be devastating to an organization. By installing a generator, you are making an important investment in "uptime insurance" and ensuring you do not experience a loss of critical information. For homeowners, a generator can ensure you remain comfortable in inclement weather or power outages.
LED Lighting Upgrades
Installing energy-efficient LED lights in your business or industrial facility can help reduce your energy consumption. We're confident in the ROI you will receive.
Your free consultation is just a phone call away! To schedule service or learn more about our capabilities, please contact us at 304-482-8487 today.
205 Hickory St.
Parkersburg, WV 26101
Hours
Monday - Friday
7:00 AM – 3:30 PM